RSSChats & Other Live Events
Transcript: Q&A with County Elections Director Brad Nelson
Brad Nelson, elections director for Pima County answered election and voting questions.
On page 2 of today's paper, the Star reports: "Voters will pick the Democratic and Republic party nominees for eight congressional seats...." Don't we have 9 representatives in the US House (incumbents listed by their Congressional district): Kirkpatrick, Barber, Grijalva, Gosar, Salmon, Schweikert, Pastor, Franks, Sinema. This took about 45 seconds to confirm on Wikipedia. Where are the proof readers?
Powered by ScribbleLive
More videos
×
UA Football: Pac-12 South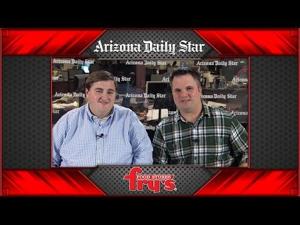 Daniel and Ryan discuss how other teams' games will impact Arizona.
Follow the Arizona Daily Star